FINSTRAL shines with innovative approaches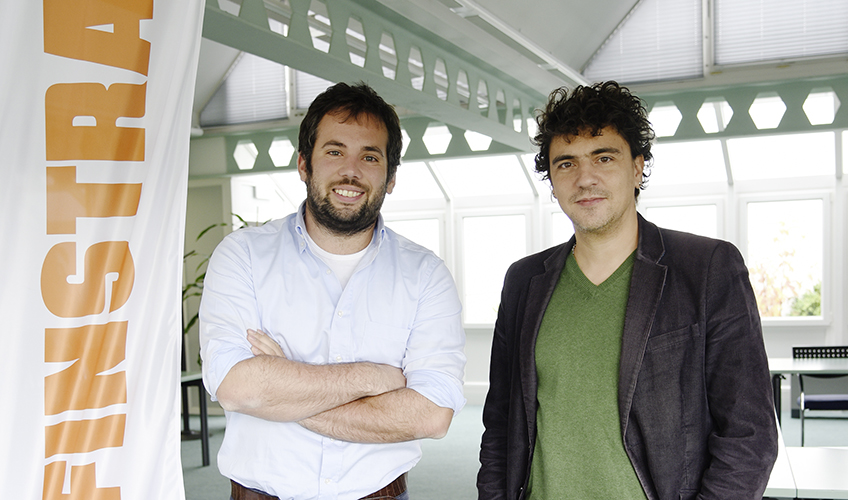 Florian Oberrauch (left), responsible for production and logistics, and Markus Dettori, responsible for software implementation at Finstral.
Finstral's main business is renovation projects and one order comprises an average of six windows. Since it was founded, the business firm has manufactured more than 20 million windows and now has 12 production locations.
FINSTRAL has around 1,450 employees and a turnover of approximately 200 million euro.
FINSTRAL is a company group with its headquarters in Bolzano (IT) and occupies a successful niche in developing high quality doors and windows, as well as glass fittings. The family business mainly relies on LiSEC solutions, be they machinery for machining and processing flat glass or software tools for flexible production planning.

The FINSTRAL group has more than 45 years of experience and was originally founded as a joinery business firm. Nowadays, it is led by the second generation of the Oberrauch family and has around 1,450 employees and a turnover of approximately 200 million euros. Since it was founded, the group has manufactured more than 20 million windows (nowadays, there are 12 production sites). The export rate is around 40% and the most important foreign markets are France and Spain. FINSTRAL has its own strengths that make the business firm unique. Firstly, there is a very wide product range on offer: thanks to its experience in numerous markets, the business firm is also able to cater to various construction cultures according to the customer's individual requirements. From a production point of view, FINSTRAL therefore offers the highest level of flexibility, which is essential as the main business concerns renovation projects and one order comprises an average of six windows.

A second unique feature of FINSTRAL is the patented pressed surface structure for windows and doors, which occurs when the profiles are extruded. The depth of added value, from the powder to prepare profiles to installing the completed windows and doors on site, also separates the business firm from the competition. Florian Oberrauch, who is responsible for production and logistics, says: "In this industry, it is important to advance your own developments and to develop in-house production depth. This ensures that you are not interchangeable."

In recent years, the business firm has expanded significantly and invested in production locations. For instance, FINSTRAL founded a branch in Altenburg (DE) in 2012 to produce rolling shutters, insect screens and installation frames. This year sees the opening of a plant in Collalbo (IT). FINSTRAL will manufacture conservatories and window walls in its latest location.

Co-operation between FINSTRAL and LiSEC started in 1980 when the first insulating glass line was put into operation at the Italian location in Scurelle. Most machinery to process flat glass in the FINSTRAL plants has the LiSEC logo on it. This applies right across the processes, from seaming and assembling to auto sealing robots. Florian Oberrauch states: "We have relied on LiSEC's experience for many years, both at the machinery level and in the software area. This guarantees consistent quality and results in standardisation in the production process. Together with LiSEC, we are able to develop further, as our business associates demand. This requires trust. We have therefore recently placed a new LiSEC glass sheet logistics system (shuttle system) into operation at the Scurelle location. The result is astounding: we have managed to reduce rejects by 80 percent as less manual handling results in fewer scratches and less glass breakage." One important side effect must also not go unmentioned: accidents in the cutting area have also fallen by 90% (weight overstress, cuts). Oberrauch continues: "We will definitely continue to develop this strategy and also implement it in other locations".
Software matters
Since 2013, the FINSTRAL group has also had a GPS.order system, which is the LiSEC tool for order management. Previously, the FINSTRAL ERP system controlled the LiSEC GPS.prod systems (the LiSEC production control systems) in the individual plants. Therefore, all plants planned their own production independently. Markus Dettori, who is responsible for software implementation at FINSTRAL says: "This meant that there was no interchangeable logic and we were limited when planning. GPS.order now feeds the relevant GPS.prod systems via a multi-client solution, which works very well. The interfaces are very open. You can really work well with them."

On the subject of software, Oberrauch states: "What we really value about LiSEC is the fact that individual solutions can also be developed." For example, the LiSEC programmers developed a simulation tool in GPS.order, which facilitates a simulation with several locations, or also the price calculation (cost estimating) and timing modules. In the meantime, LiSEC GPS.order has also established itself as the standard solution for external orders and replaced isolated applications and manual orders for external suppliers. This also reduced the error rate when connecting the external suppliers, as the data flow from the source system to the target system is no longer subject to manual modifications.

Oberrauch says: "We chose LiSEC as the software partner as it meant that we got everything from the same mould: Machinery and software come from a single source and are adjusted to each other. The whole LiSEC package suits us: the highest quality and the right price. LiSEC also has bonus products such as GPS.order, which we are happy to implement. This is something you do not need to ask other machinery manufacturers." Dettori adds: "LiSEC software tools are designed to be consistent and universal, and there is a sound release concept behind them. In addition, the LiSEC software solutions are also very user friendly and you can operate them consistently."
News Overview
Press Contact