We can offer a solution
The headquarters of KFK are located close to Zagreb, the capital of Croatia. The company is specialized in the design and production of glass facades and has numerous prestigious projects and references all over the world. And KFK is on the move – with LiSEC.
With the new investments, KFK is able to follow its slogan "We can offer a solution" more than ever.
For its own flat glass processing, a new two thousand square meter hall, in a unique design, was built.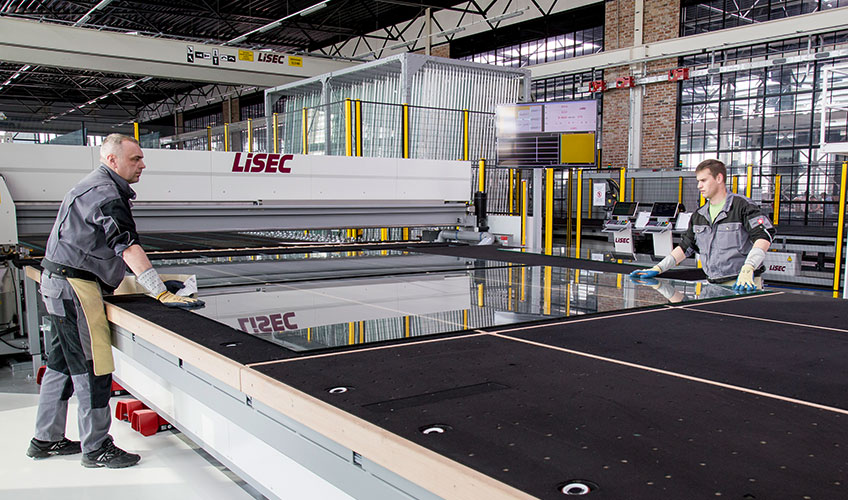 At the site Dugo Selo, 200 employees generate a turnover of around 60 million Euros, a third of which is based on export.
Marijo Tomić, Head of Production at KFK about the cooperation with LiSEC: "To us LiSEC is not only a machine builder, they also offered support and trained us in getting started with glass production at all."
KFK d.o.o. was founded some 20 years ago. Initially the company, which is 100% privately owned, produced light aluminum constructions. At Dugo Selo, 200 employees generate a turnover of around 60 million Euros, a third of which is based on export, mainly to Germany, Austria, Slovenia and in the USA. Marijo Tomić, Head of Production at KFK: "We have designed a very aggressive growth strategy and now take the required measures to manage this growth." The strategy seems to be the right one, one proof for this is the fact that the order books are full. For the next two years, that is. KFK got, amongst others, the contract to produce the glass façade of Europe's highest building, to be erected in London, UK: Landmark Pinnacle. This building counts 76 floors, production time calculated for all glass elements are 440 days. Tomić: "The time schedule behind is a very tight one, but this is what we call healthy stress."
One major decision of KFK in order to be able to realize the growth strategy was to become more independent from suppliers. Tomić: "We used to buy all our glasses from suppliers and had to deal with quality issues and/or constantly changing delivery times. We therefore decided to increase added value – a big step for us, but we are convinced this will lead to success." Since October 2016 following LiSEC glass production equipment has been installed: Buffer solution, glass cutting lines (also for laminated glass), glass processing machines KBF and KSR, one IG line with flexible spacer applicator, a spacer processing center and a production line for laminated glass with autoclave and clean room. On top of that LiSEC also delivered the entire software solution.
Tomić: "We opted for LiSEC for two reasons: on the one hand we want to install and manufacture with the best equipment on the market – LiSEC's slogan best in glass processing puts this in a nutshell, on the other hand, we were looking for a supplier who is able to offer the entire solution from a single source."
For its own glass production, a new two thousand square meter hall was built. The design of the hall is unique and expresses KFK's understanding of and closeness to architecture: red-brick walls, black painted metal ceilings, a light grey floor and impressive, massive glass façades that allows for bright, light-flooded rooms. The result: a truly great environment to produce high-end glass elements but also to welcome people, customers and employees.
Tomić: "We are really happy with the performance of LiSEC. In total it were 119 trucks that transported the equipment to us – this must have been a huge project that needed careful monitoring. LiSEC managed this really well." When asked about the quality of the cooperation between KFK and LiSEC, Tomić replies: "To us LiSEC is not only a machine builder, they also offered support and trained us in getting started with glass production at all – and they know how, since they produce glass themselves. We appreciate the constructive talks, the fast reaction time and the overall stress-free cooperation."
At Dugo Selo the next investments are already being discussed. Tomić: "I cannot reveal any details yet, but as I mentioned before: we grow quickly and the next decision won't take long…
News Overview
Press Contact